Eco Friendly
All our packaging
is recyclable.


Fast Delivery
Postage is £4.95. Same day despatch
on orders placed before 1pm,
weekdays.
No unhappy pets
No-one wants an unhappy pet.
Contact us on info@littlehayco.com
if you need support with your order.
Dust and Spore Free
We use a unique process to
ensure consistent quality of our
premium hay. See details.
Regular price
Sale price
£13.99
Unit price
per
Sale
Sold out
Next Day Delivery
Order by 1pm
No unhappy bunnies
Our happiness guaranteed
A bed of Silky soft or Cotswold Sweet Hay topped with a selection of our favourite treats and forage. This is the ready made forage and enrichment tray you have all been looking for. Available in small (1kg) or large (2kg) sizes. 
Included in your box - 
Your Choice of Silky Soft or Cotswold Sweet Hay or a mix of both - 1 or 2 Kg. 
A topping of our floral forage mix 
A sprinkling of alfalfa pellets 
A handful of barley rings 
A scattering of Dandelion roots. 
Topped off with a Chewy Chews UK, Spinach Little Hay Co Cookie.
What's not to love? These are limited edition boxes available for a short time only! 
These will make the perfect ready made grazing and forage box, complete with a lid to keep it fresh between uses. 
All toppings and hays are doubled for the larger box. 
This box is suitable for both Rabbits, guinea pigs and other small animals. 
Delivery cost is from £4.99 and delivery is by DPD.
Please note when ordering a 5kg or 10kg eco box please ensure you have a dry, safe place if you are not able to be home for your delivery. Not going to be in? Order our new dust extracted bales as a weather safe option!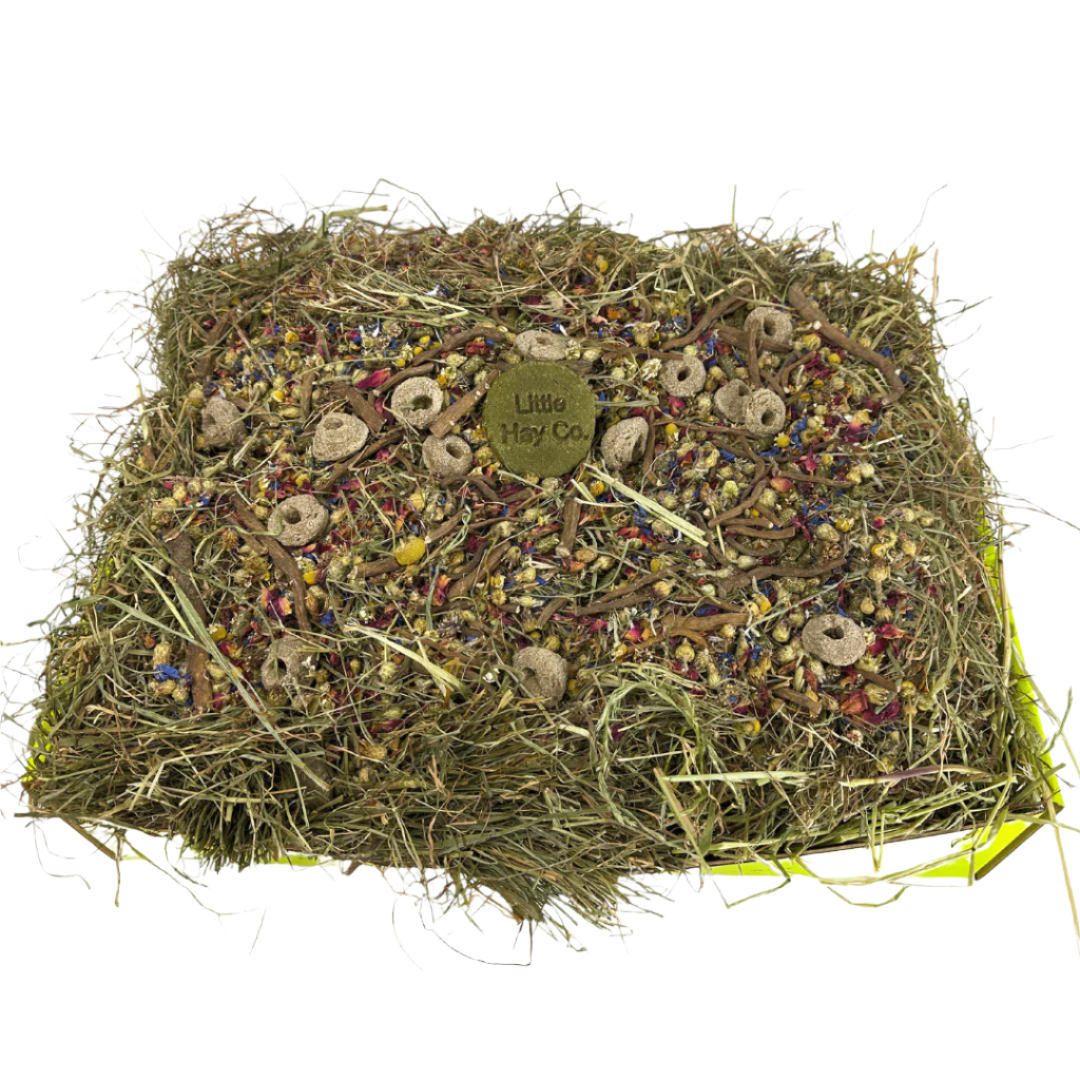 Customer Reviews
Not sure yet or just getting started?
Every pet is different and will prefer different hay types. Why not start with our sample pack?
Mixed Tasting Samples
A smaller way to sample our delicious Hay. Each pack contains 3 samples with each variety of our Hay:
Cotswold Sweet Hay
Timothy Hay
Silky Soft Hay

This is a great way to find out which type of our delicious Hays your furry friend prefers.
Naturally our small friends would be out foraging and sampling a variety of grasses throughout the day and our mixed boxes are a perfect way to replicate this in a domesticated environment.
Regular price
Sale price
£6.99
Unit price
per
Sale
Sold out
View full details