Eco Friendly
All our packaging
is recyclable.


Fast Delivery
Postage is £4.95. Same day despatch
on orders placed before 1pm,
weekdays.
No unhappy pets
No-one wants an unhappy pet.
Contact us on info@littlehayco.com
if you need support with your order.
Dust and Spore Free
We use a unique process to
ensure consistent quality of our
premium hay. See details.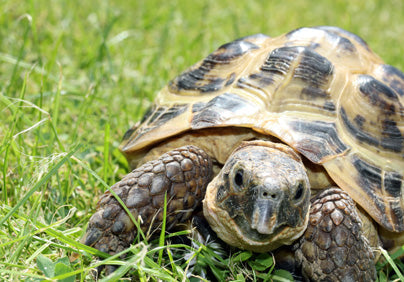 Irresistible Tortoise hay from the heart of the Cotswolds
Tortoises rely on high-fibre, quality hay to provide up to 85% of their nutritional needs – and naturally farmed, barn-dried premium hay is the best option for a balanced, healthy, and mineral-packed diet.

Our ranges of sweet, green, and fragrant hays provide exceptional dietary support with a perfect mixture of moisture, texture, and taste.
Tortoise Hay FAQs
What makes Little Hay Co hay different?

Regular hay is made outside in the field which risks getting rained on to greatly reduce quality, staying near soil after harvest for too long and being infected by spores and getting bleached in the sun.


At The Little Hay Co we cut the grass conventionally and leave it in the sun for 24 hours - but then we pick it up loose and dry it with dehumidified air in our specially built hay drying barn prior to packaging it up for you.


The difference in quality from most other hays is clear to see - and all grown, made and packaged on our farm in the Cotswolds, UK.

What are the different cuts of hay you sell?

We sell a variety of cuts, including first, second and third cut and these encompass differing textures, grasses and hardness.

Why do you use different grasses?

In nature your pet species would naturally graze throughout the four seasons, during which grasses taste different and have different textures.  This variety is what we replicate for you, but try to offer your pet the Spring to Autumn choice as Winter grasses are not always very appetising.

Why do you grow different grasses?

We grow different grasses to suit your tortoise's needs but also due to different species ripening at different times, it also extends our harvest window as we endeavour to make enough to keep you stocked up all year round.

How do you control and ensure the quality at Little Hay Co throughout the year?

We tend our pastures very carefully throughout the year to ensure that they are in tip top condition when it comes to harvest.  By use of the hay drying barn we then preserve this quality, even in the most British of summers! 

We make enough stock to store over the winter to provide you wherever possible a steady supply.  In Spring we start our harvest all over again to bring you a fresh supply.

Which type of hay should I buy?

Timothy Hay is quite a hard hay with deliciously large seed heads.  It is good for nutrition and dental care.


Silky Soft Hay is not quite so hard as Timothy but slightly more nutritious.

Cotswold Sweet Hay is very, very palatable but offers less wear on the teeth - great to build condition, great to burrow in and great to hide and sleep in.  This is often the most sought after hay.


How long will it take for my order to arrive?

Orders placed before 1pm weekdays will be sent for next day delivery, excluding bank holidays and weekends.

Which carrier will deliver my order?

DPD are our chosen carrier

My order has arrived damaged, who should I contact?

What is your refund & exchange policy?

We welcome your feedback and are happy to provide a no quibble replacement if there is dissatisfaction. If we cannot correct an issue, of course we will refund you.  This works for only one incident a year - more than that and we will arrange with you a collection of the product to provide both parties with a better understanding.

If your question isn't answered above, please email our team and we will be happy to help: info@littlehayco.com
Nutritional Breakdown of Hay and Grass*
| | Cotswold Sweet/Rye | Timothy | Silky | Meadow |
| --- | --- | --- | --- | --- |
| Moisture | 9.0% | 9.0% | 12.5% | 10.5% |
| Crude protein | 6.7% | 4.7% | 10.6% | 6.1% |
| Oil | 2.0% | 2.0% | 2.7% | 2.5% |
| Ash | 6.2% | 4.9% | 8.4% | 6.1% |
| Sugars | 6.7% | 8.2% | 9.1% | 8.1% |
| Calcium | 35% | 21% | 46% | 30% |
| Crude Fibre | 23.9% | 29.8% | 22% | 30.1% |
| DE | 8MJ/KG | 7.5MJ/KG | 9.5MJ/KG | 9.0MJ/KG |
Our Premium Feeding Hay Production Methods
The Little Hay Co. uses a carefully controlled farming and drying method to retain superb quality throughout every batch and every bale, with a special technique to prevent our hay from being exposed to excess dampness that can lead to mould and spores.
Barn drying also eliminates dust, ensuring that your tortoise gets the optimal nutritional content for their health without the dry and dusty particles at the bottom of the bale. Green hay is enriched with countless minerals and beneficial fibres, and we are delighted to maintain unparalleled quality standards every month of the year.
Our hay is collected within 24 hours of cutting and is baled in weatherproof conditions to capture the ideal 12% moisture content without losing any of the organic compounds that are so important to countless small pet species.
Not sure yet or just getting started?
Every pet is different and will prefer different hay types. Why not start with our sample pack?
Mixed Tasting Samples
A smaller way to sample our delicious Hay. Each pack contains 3 samples with each variety of our Hay:
Cotswold Sweet Hay
Timothy Hay
Silky Soft Hay

This is a great way to find out which type of our delicious Hays your furry friend prefers.
Naturally our small friends would be out foraging and sampling a variety of grasses throughout the day and our mixed boxes are a perfect way to replicate this in a domesticated environment.
Regular price
Sale price
£6.99
Unit price
per
Sale
Sold out
View full details